25+ Years Experience
Extensive industry knowledge and experience for reliable and comprehensive property inspections.

Thermal Imaging Technology
We evaluate heat sources in your home to add an extra layer of depth in your inspection.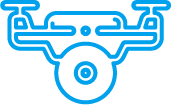 Drone Technology
We use drone technology to capture every aspect of your property.

24hr Reports
Our fast turnaround time means less waiting for you.